Dodge 12 Valve Stinger Kit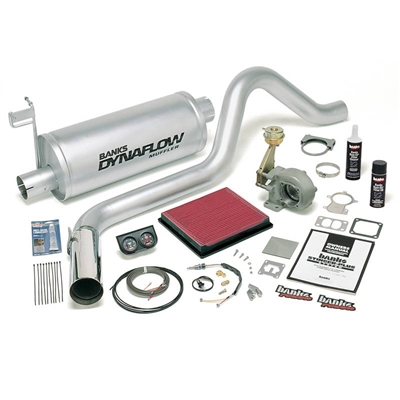 Optimize your boost, responsiveness and durability, and experience the added G-force of +96 hp and +259 lb-ft top gains (rear wheel). 5% more MPG, too. PICKUP: If you're yearning to out-perform the muscular gas big-blocks and latest crop of tough turbo-diesels, Banks Stinger-Plus has you covered.
With best gains of +96 hp, +259 lb-ft torque and 5% improved fuel economy, this system is second to only a Banks PowerPacked Cummins 5.9L. Test vehicle: 1995 pickup with 5-speed manual trans. Solo vehicle weight: 6,200 lbs. Towing combined vehicle weight: 17,000 lbs. Horsepower and torque measured at rear wheels.
Features
Optimize your boost, responsiveness and durability, and experience the added G-force
Gain up to +96 hp and +259 lb-ft top gains (rear wheel)
5% more MPG, too
CHROME tip
Fits Pickup, 12-valve
Emissions compliant: CARB EO D-161-52
LESS EXHAUST
$995.00