We are grateful for the kind remarks left by some great people.
Reviews
Privacy
Your Email Address & Other Personal Information We don't share (give or sell) your email address or other personal information with anyone unless we have your explicit permission.
BUSINESS OWNERS THAT USE LOCALS.REVIEWS
We require businesses to adhere to this privacy policy in order to use our program.
SPAMMING YOU?
Nope. We won't be sending you a bunch of emails that you don't want and did not request.
Terms of Use
As a local customer, you may freely use the Local's Reviews program as often as you like. By using this platform, you are agreeing to the following:
You will provide objective, informative, and honest feedback for the business. Keep in mind that this information is being read by the business owner as well as other locals that may be considering doing business with them.
You will refrain from abusive language or name calling.
You understand that local consumers will be reading your feedback that you have provided for the business so you may address them as well.
You will be "scoring" the business between 1 and 10 points (NPS or Net Promoter Score), which will be converted to 1 to 5 stars.
Your feedback may be posted publicly on the Local's Reviews website, the Local Business' website or social media pages and may also be used in print media or other marketing pieces or platforms.
If you check the box [Make my feedback private. DO NOT publish as a review.], your Feedback will NEVER be displayed publicly. Businesses that use this platform CANNOT override it.


Wow! What a difference the new shocks and steering dampener made! It's like driving a car!!
Thank you!!
Paul King
I absolutely love my new motorhome!
It feels like a new one. I cant believe what a difference everything made on the performance and handling.
Thanks again Eric,
Rick and Marilyn
Eric,

Just wanted to thank you for our pleasant and successful use of your services July 25 and 28. You improved our suspension and replaced our RV steps motor.

The suspension work was planned but the steps motor failure was unexpected, occurring as we were about to leave the RV park in Sequim for your shop. You nevertheless immediately went to work on the steps problem and diagnosed it within 15 minutes, before proceeding to handle the suspension.
You also provided us with a loaner car at no cost -- a great help to us -- and a treat for me to again drive a stick shift car. Further, you put us into your busy schedule at this busy time of year to install the new motor when it was expected. I think I noted several other customers hanging about the shop for whom you were also providing service above and beyond the normal.

My wife and I thank you and are willing to provide a reference if you wish.

By the way, the RV drives and handles much better and the steps are still operating!

Tom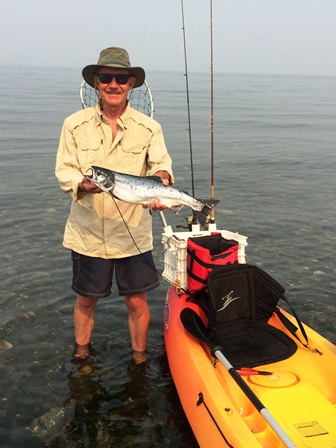 Hi Eric,
Just want to say 'thanks' again for fitting us in to fix our trailer brakes last week.  We made it to Campbell River; got into some springs, and then the pinks came in, which I was catching from my kayak.  Fun stuff.
So thanks again - we were much safer!
Best regards,
Bill Kreamer
Sloan Trigg / Richton, Mississippi wrote in Motorhome magazine:
Thanks for your recommendations on improving the ride and handling of my 2010 Allegro
Open Road. After weighing the coach and checking Michelin's load-inflation charts, I
was able to lower front tire pressure by 10 psi and rear by 5 psi, which helped improve the ride.
Also thanks for suggesting Eric's RV in Sequim, Washington. Eric Recommended the Davis
front track bar and Roadmaster rear sway bar. Adding those resulted in a big improvement in
controlling sway in wind and traffic, and I no longer experience coach-body roll on curves. I
highly recommend Eric's RV, Sequim Washington to all motorhome owners.
Eric,
A few weeks ago your young assistant washed and waxed our Rialta motorhome. I had intended to send this memo shortly thereafter however life got in the way.
I want you to know, and to let him know, what an excellent job he did. We will be back again for a washing as needed, and a waxing, probably in a year or so.
Your staff always get the job done as it should be done
Happy trails. Life is Good.
Ed Merrill
P.S. Do not over look Spud either, he always gets things right. We hope he doesn't plan to retire anytime in the near future. He is an important member of your excellent team.
Dear Eric and Staff,
Thank you all for the great workmanship on our 5th wheel.
Eric, we also wish to thank you for our stay. Bob and I enjoyed seeing Sequim as well as Port Townsend and Hurricane Ridge.
- Pat and Bob -
Thanks for the prompt response. I completed the installation on my 1999 Ford V-10 Class A motorhome and went for the test drive, a short 15 mile test on city streets, over a bridge several hundred feet high, at interstate speeds and with moderate 20 knot winds. The difference was significant! I felt at ease driving with only one hand and didn't feel the need to constantly make steering corrections.
The installation posed some difficulties for an average home mechanic, but it was not impossible. Thanks for the great customer service on the phone and on the internet. I will recommend the Davis TruTrac Bar to other owners of motorhomes.
Your help system is great!!! I'm learning as I go and I can tell you now, you have the best products and website over everyone else.
- Jeffrey Haire -
We just returned from a short camping trip after having installed your Davis TruTrac Bar. Fantastic...! What a difference. We traveled a narrow two lane highway which normally gave me fits trying to stay in my lane. Now I set the course, and rarely have to correct.
I installed the bar on a 34' 1995 Holiday Rambler F-53 chassis with approximately 11,000 miles. I had to send you this note, because I bought this unit new in Dec. 96, and was totally disappointed in the handling.
To the point, I had a Howard Center Power Steering installed after only 500 miles with only minor success. Fortunately, I saw your ad in Motor Home Magazine, and called to inquire. The person I spoke to, said if I wasn't satisfied, send it back for a refund. No refund required, thank you.
- Don Zajac -
I ordered a Davis TruTrac and an IPD rear sway bar last week. As promised the products arrived in time for the weekend. Saturday morning I installed the TruTrac. I could not believe the improvement in handling of my coach!!! We have a 1995 32' Holiday Rambler Endeavor LE.
We live on a very rocky road, just pulling out of the driveway I noticed a change. For sure I thought I was imagining things. The farther I drove the more I realized that the ride, steering and overall handling had greatly improved! Even my wife notice the changes from her seat. I can hardly wait to get the new IPD rear sway bar installed.
I wish to thank you for living up to your advertisements. The TruTrac does everything you say and more! It is surely a pleasure to purchase a product that measures up! I have one suggestion for the install instructions: A list of suggested tools would help.
I had to make a couple of runs to get the proper sockets to do the job. Knowing the sizes ahead of time could make planning easier. Thanks again for the quality product.
- Dan Kowalik -
I just left your repair shop and I have to write and tell you how much I appreciate everything you and your staff did. It all started with the attention that Eric showed not only to the problem that I came to your shop with, which was my third try at trying to get an electrical problem fixed.

I told my wife as we were leaving, now that is a technician, did you notice the first thing he did after assessing the situation, he used a meter to verify his suspicions. The first place I went to, I never did see any of them get a meter out. What really impressed me was not only my electrical problem looked at, but I was given several other suggestions concerning issues that could have become a problem that I was completely unaware of.

I admit that this is my first motor home, but I have been pulling trailers and 5th wheels for over twenty five years. In all those years I have to say this is the BEST RV repair shop I have ever dealt with. Not only were you very helpful in giving tips and suggestions to make my vehicle safer to drive, which I realize this will make my trips more enjoyable and worry free.

Having just driven back to Port Townsend from your shop I could feel a major difference in how the motor home handled, as you stated it would by installing the sway bars. It did really improve the way that the RV felt and steered. I never thought it would make that much difference.

I now realize it could have possibly even been dangerous the way it moved all over the road. I would be negligent if I failed to mention everything your shop worked on was done and looks great, from installing sway bars all the way down to a new dump valve. What a great experience dealing with your shop. You have gained a loyal customer from this day on.

Thanks,
Mark Hankins
Eric, 
Thanks for all you do to help Robyn and I enjoy our RV. I can honestly say that if you and 
your crew were not here in Sequim, I doubt we would still have a rig. 
Russ Veenema
Hi Eric,
Just want to write a note to thank you for your help and wisdom about our new trac bars and sway arms. Our motor home drives so much better and I dont get so tired driving longer distances any more. Thank you again and hope we'll see you all again in a visiting capacity. Hit it long and straight Eric. Fore!!
Joe and Offie Balmores
I never thought I'd have an occasion to go to an RV store. Who knew they are so much more in terms of service.
Eric, staff and crew, thank you for your patience and the work you've done on my trailers. Eric, I especially appreciate your humor. It lifts me up.
Laurie G.
Eric,
My many thanks to you and your talented crew (especially Chris) for your expert repair of my
"rolling bomb" (literally) into a safe ride again!
Best regards,
John Clear
Yo, Eric.
Thanks for saving my ass with the new front end installation on this Thor Axis. We're in Bar Harbor, Maine, and this cheesy RV drove great all the way across the USA. A couple days here, and we will reverse course for Chimacum. You are DA MAN!!!!
Joe Constance